New hansgrohe products for the sink unit
New product ideas for giving the most important source of water in your home a fresh makeover
Check out new product combination ideas for the sink. Whether you're looking for a pull-out hand spray and two spray types for someone who loves to cook, or a compact design for minimalists. The M42 range offers you fresh product ideas for the most-used area of the kitchen. Innovative hansgrohe products to suit any setting or kitchen type. Available in multiple versions and attractively priced.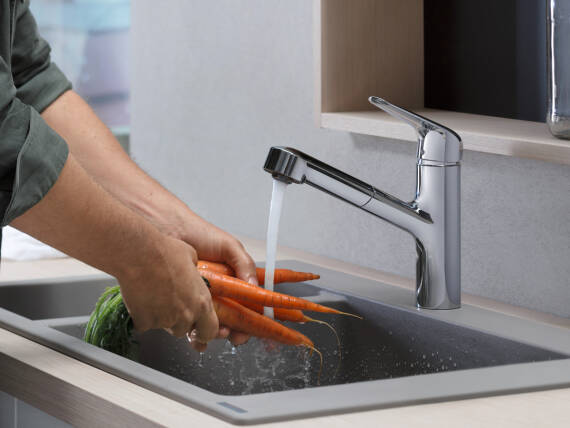 Be inspired to give your sink unit an upgrade
Do you dream of having a generous working radius around your sink? With the modern M42 range, hansgrohe presents new product ideas to suit any kitchen setting, tailored to any type of user. The kitchen taps in the M42 range can all be swivelled, and are available with or without a pull-out function, so you can control the water to suit your needs. The version with two spray types offers flexibility: quickly switch from filling up large containers to washing ingredients and rinsing out pots and pans. Taps with a pull-out hand spray or pull-out spout are optionally available with an sBox. The hose guide underneath the sink guarantees smooth operation and the hose can be pulled out up to 76 cm depending on the installation scenario.
A wide range of products in modern design
Enjoy undreamt-of possibilities: three basic shapes and five different heights in two surface finishes all embody modern design which will integrate seamlessly into any kitchen. Is the high arc spout to your taste or do you prefer the compact solution – with or without pull-out hose? Whatever you decide on: the large-area handle design offers lots of usability and makes it easy to operate, even with soapy hands. Opt for timeless design quality for your kitchen.
M42 will impress you with its functional details
Thanks to its high-quality shaft mounting, your new tap is easy and safe to install. The tested PEX connection hoses are rotatable and temperature-resistant. Cleaning the kitchen tap is quick due to QuickClean technology, and MagFit holds the pull-out hand spray securely and firmly in the tap spout. If space is tight or the tap needs to be installed in front of a window: among these new, versatile kitchen assistants, you will find a clever and attractive solution even for these types of situations.
Products that are suitable for any type of kitchen
The kitchen needs to suit you and to fit in with your customary routines, but it also needs to be safe! Everyone who cooks has his or her own personal requirements when it comes to using water. Fortunately, the M42 range's selection provides the answers: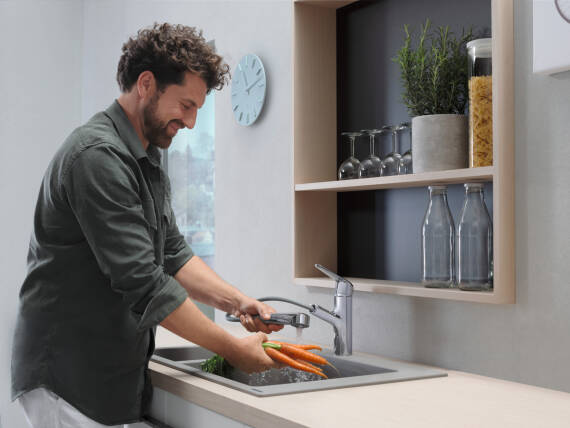 Focus on functionality: the practical type
The practical type places emphasis on added functional value within a compact design. Design should make a statement, but not dominate. For example, on a small sink. We recommend the tap with angled spout and voluminous normal spray. AirPower technology mixes the water with generous amounts of air, ensuring that resources are used efficiently. The large handle is designed for maximum usability, and at the same time really grabs the attention.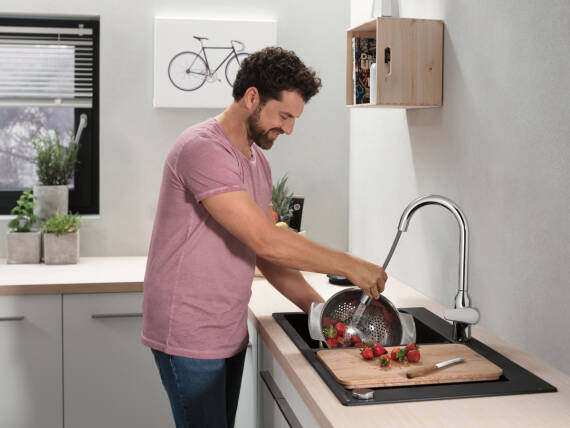 Kitchen assistant for those who love to cook
Amateur chefs and passionate cooks all appreciate having maximum freedom of movement for all the work they have to do at the sink. A hot tip: get the fully swivelling M42 with arc spout, height of 220 mm (distance between worktop and spout), and jet switch-over. In just one click, you can switch between the laminar spray and shower spray on the pull-out hand spray, and enjoy a working radius of up to 76 cm. It's really easy to feed the hose back into the sBox after use. Thanks to the MagFit magnetic support, the hose slides back virtually noiselessly and attaches itself back in the centre of the tap spout.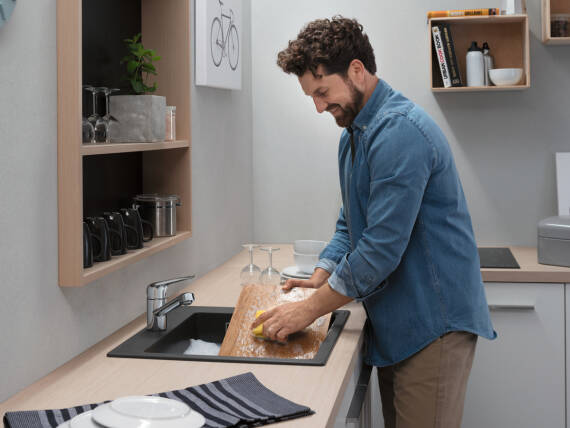 Compact for minimalists
The minimalist likes it small, but exquisite: no compromises please in terms of functionality or
durable quality
. Therefore the compact M42 variant with the
ComfortZone
100 and full 360 degree swivel range is ideal. You can direct the voluminous normal spray exactly where it is needed in the basin. The large handle ensures safe, precise control of water, even with soapy hands.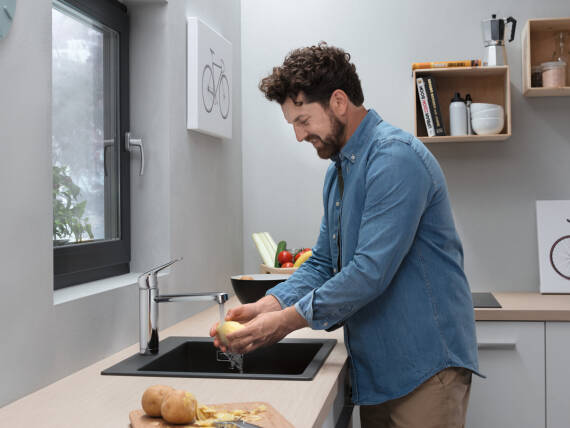 Free space in front of the window
Simple elegance in front of the window: the place where the light comes through the window is the ideal spot to make a statement in linear design. This innovative new range offers you timelessly elegant products: M42, ComfortZone height 120 mm, for installation in front of a window. To open the window to the inside: remove the kitchen tap from the bracket in one quick step, fold it down, and you're done. Another advantage of having the M42 as a new kitchen tap for your sink: the modern, rounded design with horizontal spout and precision edges will enhance any kitchen setting.
Trusted partners
Find bathroom showrooms in your area
hansgrohe Loading showroom data
An error occurred. Please reload the page.
Your search covers: United Kingdom and the Republic of Ireland