Building a shower system
Discover your perfect shower configuration
There are some basic questions to consider in order to build the perfect shower system.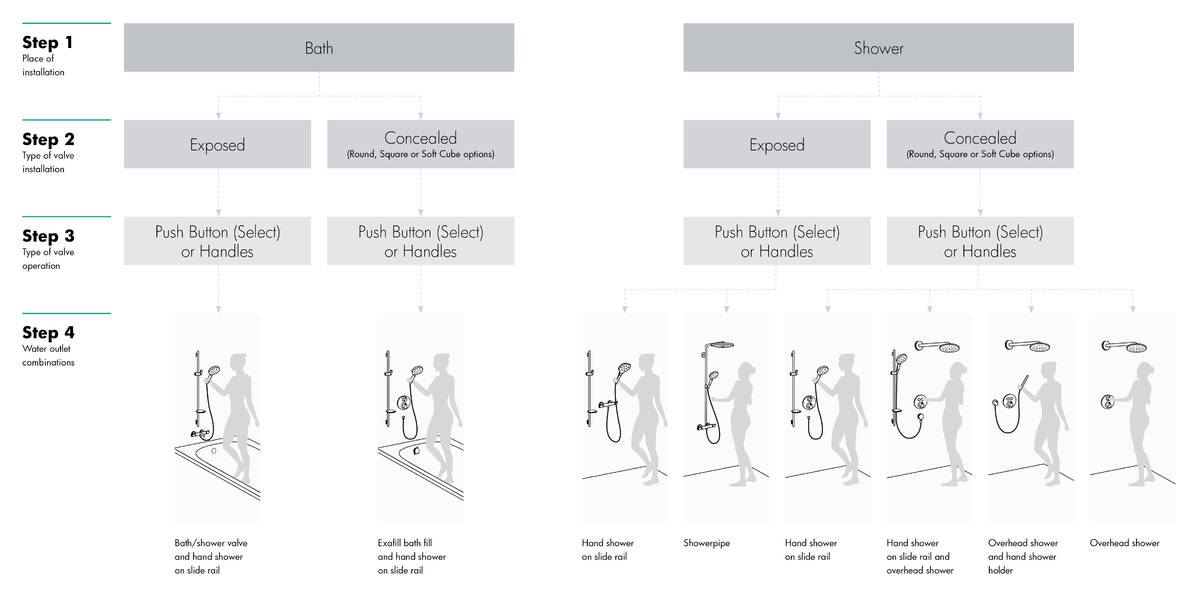 Exposed or Concealed valves?
Budget and Design will help determine the answer to this question. For lower budgets, exposed valves require less installation work and are less expensive to buy. Exposed valves do limit the number of outlets you can control but are generally more than adequate for most.

Concealed valves are slightly more complicated to fit, but the pay-off in terms of space saving and appearance often makes it the right choice. Concealed valves also offer the flexibility to operate more than 2 outlets making them the perfect choice for the more adventurous.
Temperature Control – Thermostatic or Manual?
Thermostatic control is generally considered a "Must Have" for any renovation or new build shower. Safety and comfort are standard with thermostatic control as the thermostatic cartridge reacts within 0.2seconds should the water delivery situation change. The safety stop button also makes it more difficult to accidently turn the water temperature too high. It is for these reasons that all new build properties in the UK must have Thermostatic Control in order to pass Building Regulation inspections.

hansgrohe manual valves do offer a safety feature for temperature control, by including a limiter within the handles of all manual control valves. Whilst we would always recommend thermostatic control where possible, our manual valves are able to limit hot water delivery, making them an option for the most cost-conscious customer.
Type of valve operation – Buttons or Handles?
The concept of using buttons as a means of getting things done has already become a standard in many other areas of life.
Our customers love this new and intuitive method of switching between different jets or functions by simply pressing a button.
A single button makes showering easier, more convenient and more enjoyable.

Handles on our control valves are just as reliable as you would expect from hansgrohe, and in terms of aesthetics they are certainly compatible with more traditional designs.
How many outlets are required?
From the simple to the outstanding, hansgrohe offer the means to control a single shower head or multiple shower and bath fill options. The type of valve you choose will depend on the volume of water required and how the shower is going to be used. One thing is for sure – there is a way to achieve whatever your customer wants with hansgrohe.
HGHBWMediaGalleryImageElementComponentModel (8804678861884@2)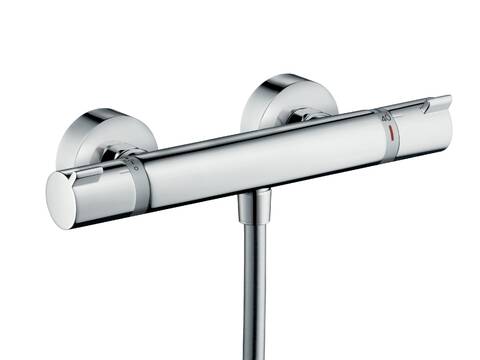 HGHBWMediaGalleryImageElementComponentModel (8804678927420@2)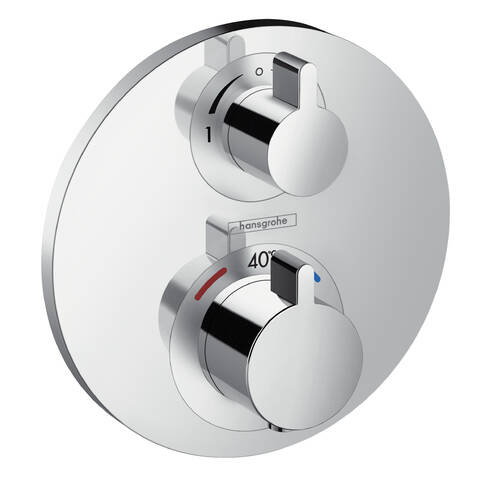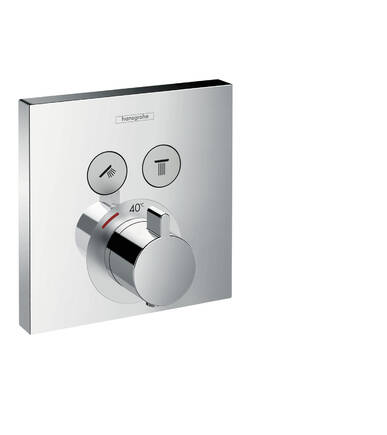 Trusted partners
Find bathroom showrooms in your area
hansgrohe Loading showroom data
An error occurred. Please reload the page.
Your search covers: United Kingdom and the Republic of Ireland