Raindance Select S with PowderRain
Lose yourself in a cocoon of super-fine mist
Inspired by the warm, misty droplets of the rainforest, PowderRain introduces an entirely new way to indulge in water. Thanks to six fine openings in every jet outlet, water is transformed into a cocoon of spray, which is both all-enveloping and supremely quiet. It truly is a showering experience unlike any other.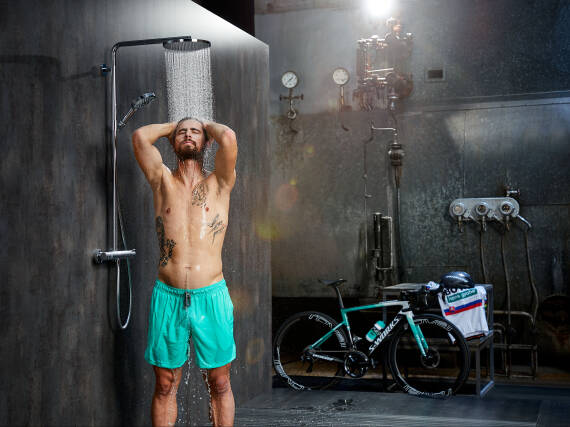 Discover the wellness benefits of hansgrohe PowderRain
In a PowderRain shower, thousands of micro-droplets have been carefully optimised to create the most relaxing shower experience possible. The result is a spa-like experience in your own home, which is a luxury to be enjoyed every single day.

But don't just take our word for it, a recent study* found nine out of ten consumers agreed that hansgrohe PowderRain is "the best shower of all time". 
As quiet as a whisper
One of the benefits of the micro-fine water droplets is how softly they fall, creating a quiet and meditative space for you to lose yourself in. That's thanks to the experts at the hansgrohe sound laboratory, who have used the latest technology to reduce shower noise to a mere whisper. But while the spray might be quiet, it's also extremely effective, washing shampoo and shower gel away effortlessly.
Micro-droplets, minimal splashing
Another practical benefit of PowderRain technology is the reduction in splashing created by this type of spray. Minimal splash means less limescale to be cleaned from the surrounding area, which is particularly useful for any bathroom with an open-plan shower space.
PowderRain: for every shower type
You can enjoy PowderRain in your own bathroom with a minimal number of changes. We can provide a comprehensive solution, whatever your existing shower space and personal preferences. Here are just a few PowderRain configurations:
The three-spray Raindance Select S 120 3jet P hand shower has three jet options: the micro-fine PowderRain, Rain, which is a full jet, and Whirl, a relaxing massage spray. Innovative hansgrohe technology means you can switch between them with just a push of the Select button.  And installation couldn't be easier: you can simply screw the new hand shower onto your shower hose. And for a cohesive look, the Raindance Select S 120 3jet P shower set comes with both the hand shower and matching shower bar.
Alternatively, for those wanting to enjoy PowderRain exclusively, choose the Raindance S 240 1jet P overhead shower**  for a truly luxurious shower experience.
Or for the complete shower system, the Showerpipe Raindance Select S 240 1jet P** offers both an overhead and hand shower, both with PowderRain, plus a thermostatic mixer, for superior temperature control.
Comfort through cutting-edge technology
hansgrohe has developed innovative technology to create the PowderRain experience. Rather than water being dispersed through individual jets, each jet has six fine apertures, breaking down the spray into micro-droplets. The result is a shower spray that caresses your skin, is whisper quiet and minimises any splash in the area around you.
Explore more of hansgrohe's technological innovation:
*1,500 consumers tested the hansgrohe PowderRain in December 2018 with trnd, an interactive marketing community in Europe.
** For the installation of overhead showers and thermostats, please commission a specialist bathroom retailer. 

 
Trusted partners
Find bathroom showrooms in your area
hansgrohe Loading showroom data
An error occurred. Please reload the page.
Your search covers: United Kingdom and the Republic of Ireland