Trend topic: Grey kitchen colour scheme
How to design a purist kitchen in anthracite
Purist chic with ultra-modern furnishing: this dream kitchen is decorated in trendy shades of grey. It has been equipped with numerous technical highlights, for maximum usability. Despite the minimalist colour scheme and shapes, this room does not appear cold. On the contrary, it has a cosy feel, and is a lovely place for enjoying lots of cooking, eating, get-togethers and celebrations.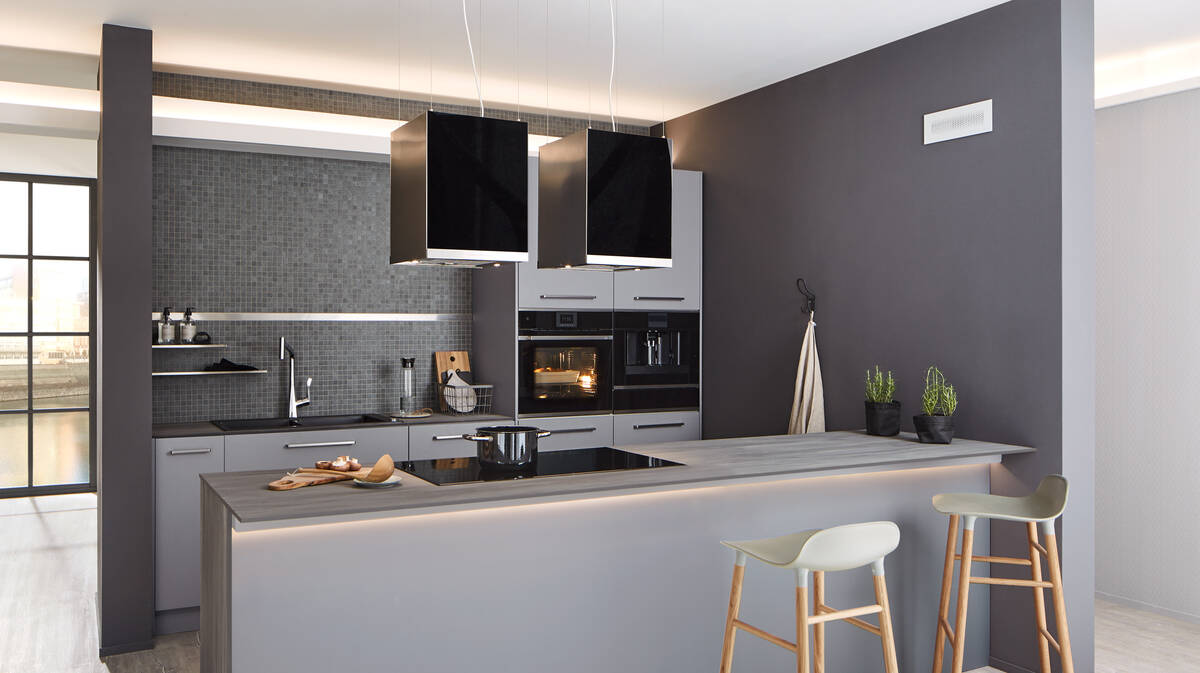 +1
Add everything to my notepad
Product noted
Product saved for 30 daysSee notepad
The product could not be saved.
Please try again.
50 Shades of Grey
Grey in the kitchen looks impressive: from dolphin grey and graphite through to stone grey and concrete grey
The high-quality ingredients really make this kitchen a work of art. The colour scheme, in various shades of grey, makes the open space look clear and uncluttered. Granite-coloured and black coloured areas on the wall, tiles, hob, sink or floating extractor fans add elegant accents. Glass surfaces, plain front sections and handles further enhance the purist look. Well-organised built-in units provide ample storage space, so there's not much just lying around. What grabs the attention are the essentials: the modern kitchen equipment.
High-tech kitchen facilities: top-quality and state-of-the-art
For example, a self-cleaning XXL baking chamber with fan wheel offers space for roasting and baking on five levels. Whether you prefer an espresso or a latte macchiato: the integrated designer coffee machine brews up all the variants for coffee lovers. The stop-and-go button on the induction cooker makes it extra-safe to use: one tap is all it takes to turn off all active burners. Great when the doorbell rings or the baby is crying.
Granite sink with Select kitchen tap: sophisticated and user-friendly
It blends perfectly into the elegant colour and device concept and creates ergonomic convenience: the
hansgrohe granite sink combi unit
made of SilicaTec. This solid surface material is available in graphite black, stone grey and concrete grey. On the double bowl sink, different work steps can be carried out in parallel. The flow of water is also easy to control with the pull-out Select kitchen tap. A great convenience feature: the extra control unit on the front rim of the basin.
Trusted partners
Find bathroom showrooms in your area
hansgrohe Loading showroom data
An error occurred. Please reload the page.
Your search covers: United Kingdom and the Republic of Ireland