A dream kitchen for all
Family life centred around the colourful kitchen island
The family kitchen does it all: Whip up a quick meal here, have a gourmet dinner party or host company. Multi-tasking is on the menu in bustling family kitchens, which calls for large worktops with everything within reach. Connecting the kitchen to other living spaces makes it easier to be more social, and a pop of colour puts you in a good mood when cooking.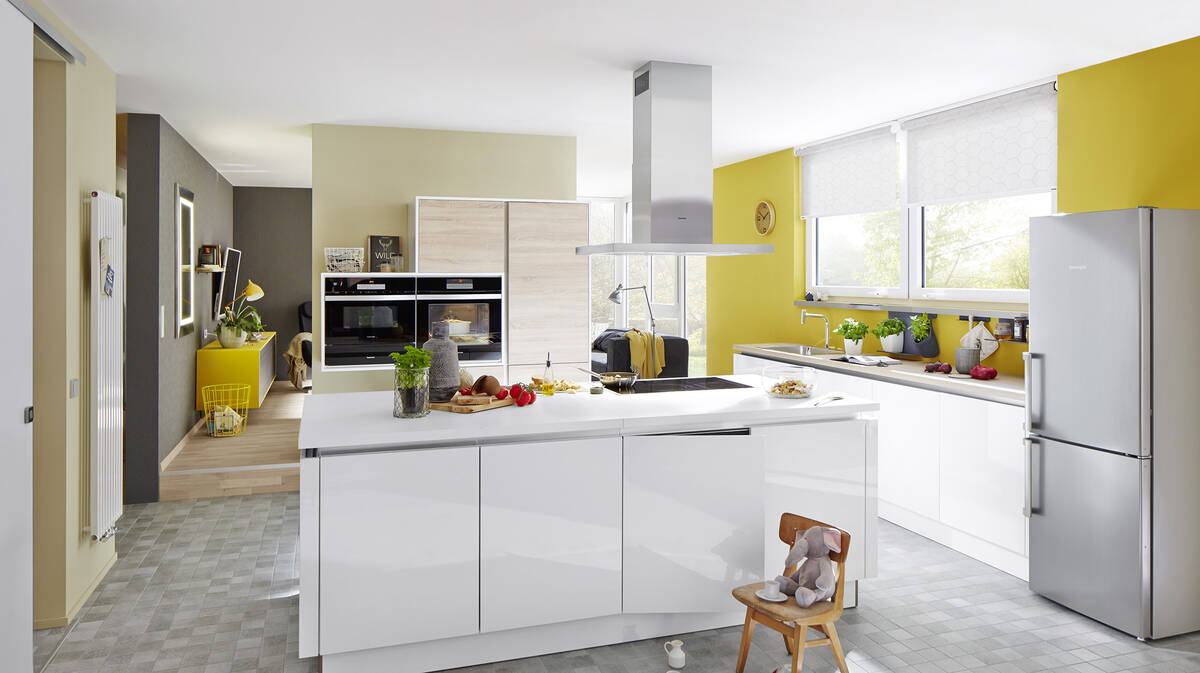 +1
Add everything to my notepad
Product noted
Product saved for 30 daysSee notepad
The product could not be saved.
Please try again.
Ripe for the kitchen island
The family kitchen knows what life is all about
Do you dream of a family kitchen where everybody delights in meeting, eating, playing and chatting? Then maybe the casual island solution will give you some inspiration. The transparent layout creates space for various activities. You can even have your eye on the kids while they play or do their homework. The easy-clean surfaces mean the kitchen is prepared for day-to-day life, while a splash of colour lightens the mood.
The family kitchen is easy clean and ready to handle it all
With a large worktop and plenty of storage space in the base units, the kitchen island is prepped for every eventuality. Placed in the centre of the room, it is the focal point of a kitchen that has everything within reach. The surfaces are easy to clean, as are the floor tiles. The subtle vintage-look mosaic is forgiving of any little mishaps. Along with the wood on the cupboards, it creates a warm contrast to the elegant glossy white. Natural colours create a serene vibe, making it feel like a place of retreat. The kitchen counter under the window continues the theme of glossy white furnishings and wooden worktops.
Sink combi unit tailored to family life
The hansgrohe
sink combi unit
with the extra-large sink is a perfect fit in this family kitchen. With an internal measurement of 66 cm, the sink has plenty of room for large pots and even a baking tray. It even becomes a convenient temporary storage area during hectic days. At 76 cm in length, the pull-out spout on the tap makes rinsing simple. Pots can even be filled next to the sink. Water can be controlled single-handedly using the
Select push button,
while the jet can be routed to the right place. The combination is very ergonomic for small kitchen assistants as the water can also be turned on and off on the rocker lever on the front rim of the sink.
Trusted partners
Find bathroom showrooms in your area
hansgrohe Loading showroom data
An error occurred. Please reload the page.
Your search covers: United Kingdom and the Republic of Ireland