UK water systems
Peace of mind from installation to enjoyment
Selecting the right products
To discover which showering products will best deliver an exceptional showering experience, it is important to identify correctly the system that is installed in your home. In order to obtain accurate water pressure measurements, we always recommend using a plumber/installer to obtain this information with a water pressure gauge before you finalise any designs or orders.
Understanding your water system
Identifying your water system is key to providing the correct products and a bathroom you will be able to enjoy to the full.
Answering simple questions such as 'Is there a cold water storage tank in the loft?' will help you understand the type of water system, and therefore the type of water pressure you are likely to have.
This is especially important with a Gravity or Pump Assisted system, because shower valves and taps that use the
"Select" technology
require a Universal Pump in order to ensure compatibility.
If you have a Combination Boiler or Unvented system then this will already be suited to using
"Select" valve technology
.
Installation
Understanding your system's ability to deliver water is essential in order to match your chosen showering solution's performance. A qualified installer will have the knowledge and experience to help you achieve the desired result with the reassurance of exceptional performance in the years ahead.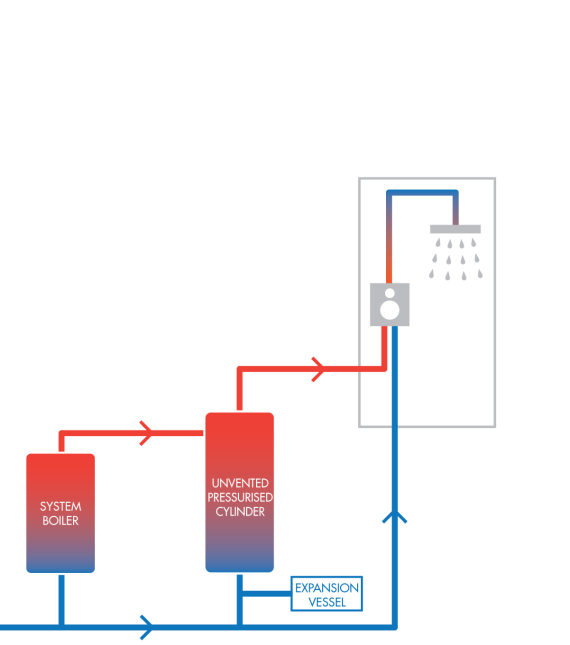 Mains High Pressure
High Pressure - HP (1 - 3Bar)

• Unvented cylinder with an expansion cylinder
• No cold water storage tank in the loft
• Stored hot water
• Balanced Pressure
• Limited to Mains Pressure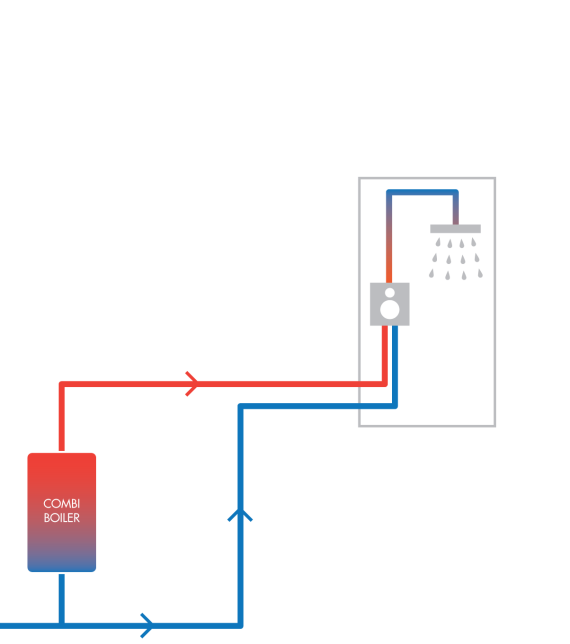 Combination Boiler
Medium Pressure - MP (1Bar - 1.5Bar)*
• Combination boiler fitted providing hot water on demand
• No storage tanks in property
• No shower pump installed
*Pressure is dependent upon the age and size of the combi boiler plus the mains water pressure.
 A 28KW combi boiler will typically provide between 1Bar - 1.5Bar pressure.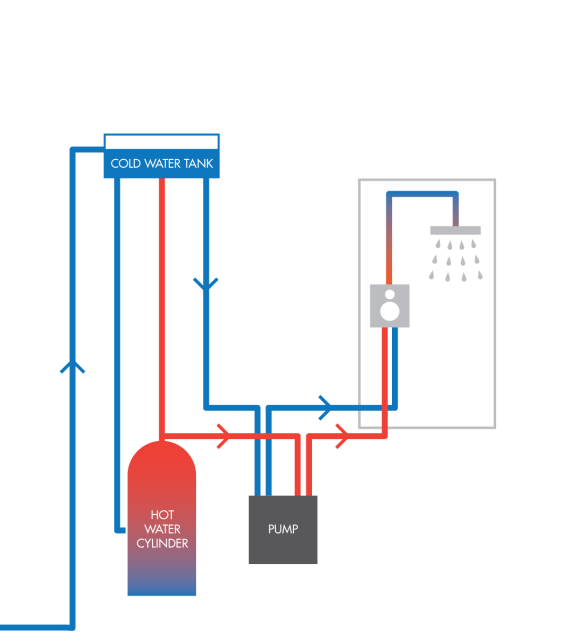 Pump Assisted
High Pressure - MP - HP (1.5 - 4Bar)

• Booster pump installed
When the gravity of water exceeds 0.61pm, this is known as 'Positive Head'
(i.e. when a shower head is positioned below the cold water storage tank).
In this situation a standard shower pump can be used. Please note, with the exception of the select valves,
these require an universal pump.
Whilst a 'Negative Head' condition is when the gravity of water is less than 0.61pm
(i.e. when a shower head is positioned above the cold water storage tank).
In these conditions an universal pump must be used.
Please note, a Universal shower pump will work in both positive and universal head conditions.
The correct pump will allow you to use any of the products featured this brochure.
Trusted partners
Find bathroom showrooms in your area
hansgrohe Loading showroom data
An error occurred. Please reload the page.
Your search covers: United Kingdom and the Republic of Ireland