Easy renovation and modernisation
Exposed installation: the simple way of upgrading your bathroom
If you want to upgrade your current bathroom, but don't want to commit the time or budget to ripping everything out and starting again, an exposed installation from hansgrohe could be just what you need. These valves and shower systems instantly improve the look and function of your bathroom, transforming the area into your very own home spa.
When is an exposed installation suitable?
An exposed thermostatic valve and hand shower is a simple installation solution, and in the bath, you can add a bath filler. But if you're looking for added features or an extra-large shower, go for a shower system. This state-of-the-art unit, which includes an exposed thermostatic valve, overhead shower and hand shower, means that everything matches perfectly in terms of both design and function.
Easy installation
Exposed units are a supremely simple solution, as they can be installed straight on to existing connections. The dimensions are standardised throughout the industry, so every hansgrohe product will fit. This also makes it the perfect solution if you live in rented accommodation, because they can be installed and dismantled quickly and easily.
What's the alternative?
A
concealed installation
integrates your thermostatic valve into the wall, so it lays flat against it for a more streamlined look. While it means more space to move around the shower, installation is more complex because the technology needs to be hidden behind the wall. You can view our range of concealed solutions here.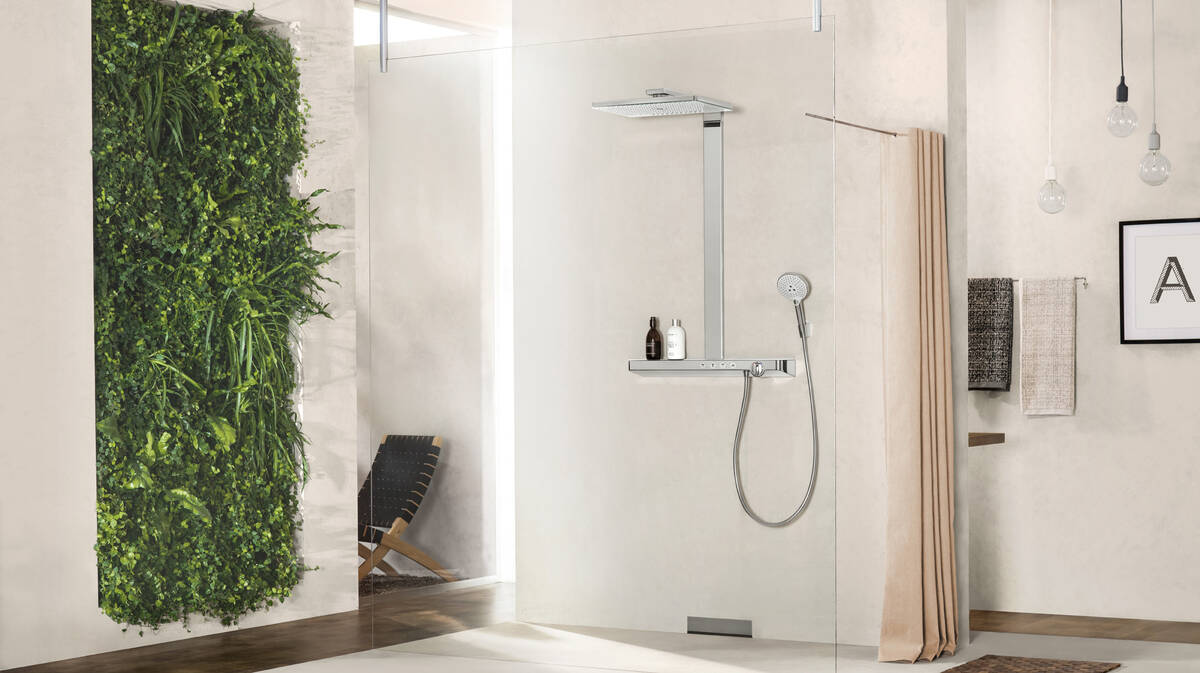 Which exposed installation control system?
At hansgrohe, we offer exposed installation valves to suit every aesthetic and every budget. Our products are the result of over one hundred years of experience, so you can be assured of their quality and durability. With a range of design variants and surface finishes, you'll find the right option for you and your bathroom.
Single lever or two handles?
Shower and bath valves allow you to control water, either via an easy-to-use mixer valve or a flexible two-handled valve. We have a wide selection of both, which can be combined with a hansgrohe hand shower and shower rail from the same collection, for a cohesive bathroom design.
Thermostatic valves - protecting you in the shower
Exposed thermostatic valves regulate water temperature constantly, so that you always enjoy the very best shower. Each hansgrohe thermostatic valve protects you from heat by complying with the very highest of safety standards, thanks to a safety lock at 40°, an insulated body with rounded corners and adjustable temperature limitation.
ShowerTablets - valves with an added shelf
Our multifunctional ShowerTablet valves combine some useful extra features, including a shelf made of safety glass, giving you a neat storage solution for your shampoo bottles. Their ultramodern design makes them a visually striking addition to any bathroom, and even come in a white/chrome finish or with a bath spout, for a real style statement.
Opt for a Select variant, and the flat operating buttons allow you to turn the shower on or off or activate spray types with a simple press of a button. This makes them particularly useful for any bathroom being used by the young and old alike.
Showerpipes - the all-in-one installation option
Opting for one of our exposed installation shower systems allows you to install an overhead shower without having to rip out the wall, so you can enjoy up to six spray types on the hand and overhead shower. And with hansgrohe Showerpipe options at a range of prices, your indulgence needn't be limited by your budget. If you do want to install a deluxe option, go for a button-based Select Showerpipe.
HGHBWMediaGalleryImageElementComponentModel (8802971321404@2)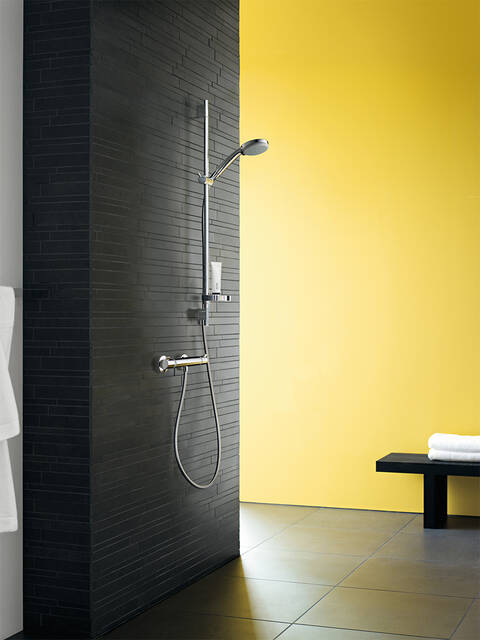 HGHBWMediaGalleryImageElementComponentModel (8802971255868@2)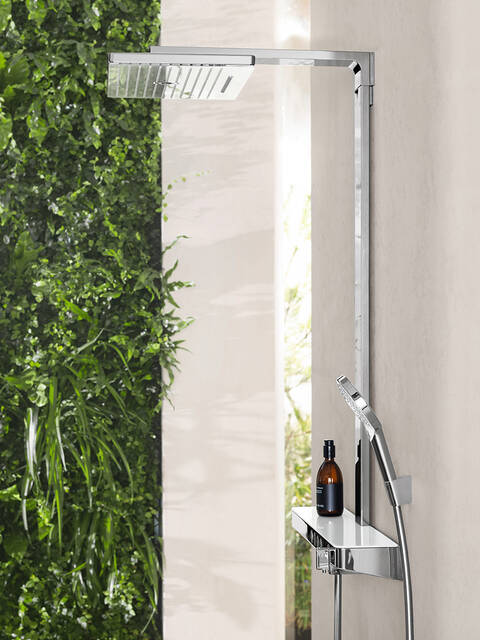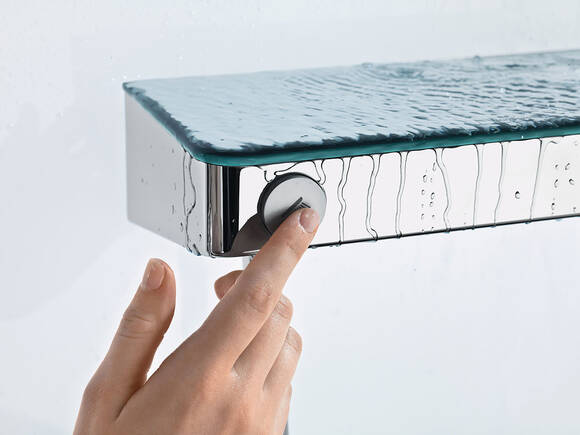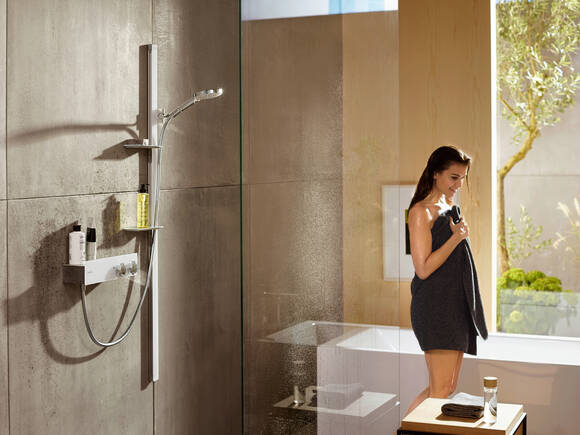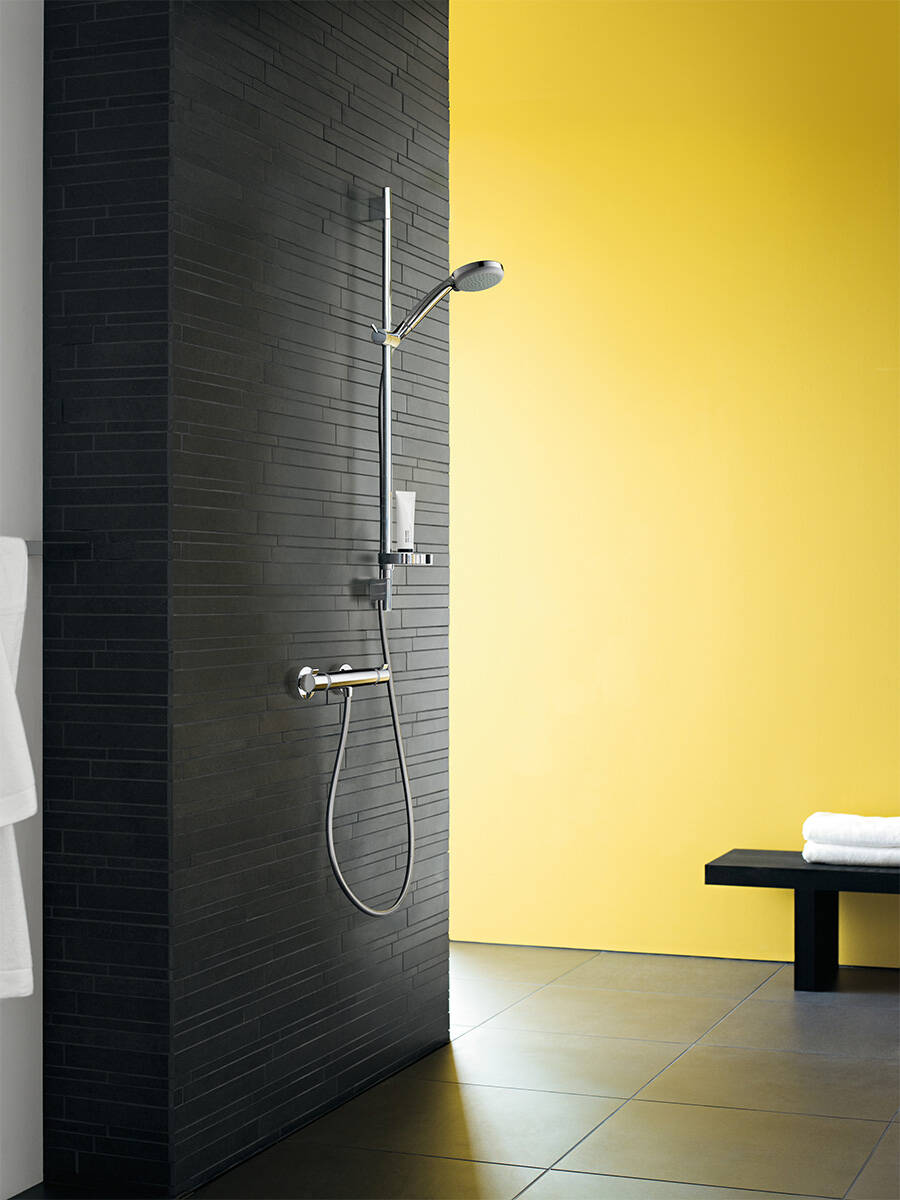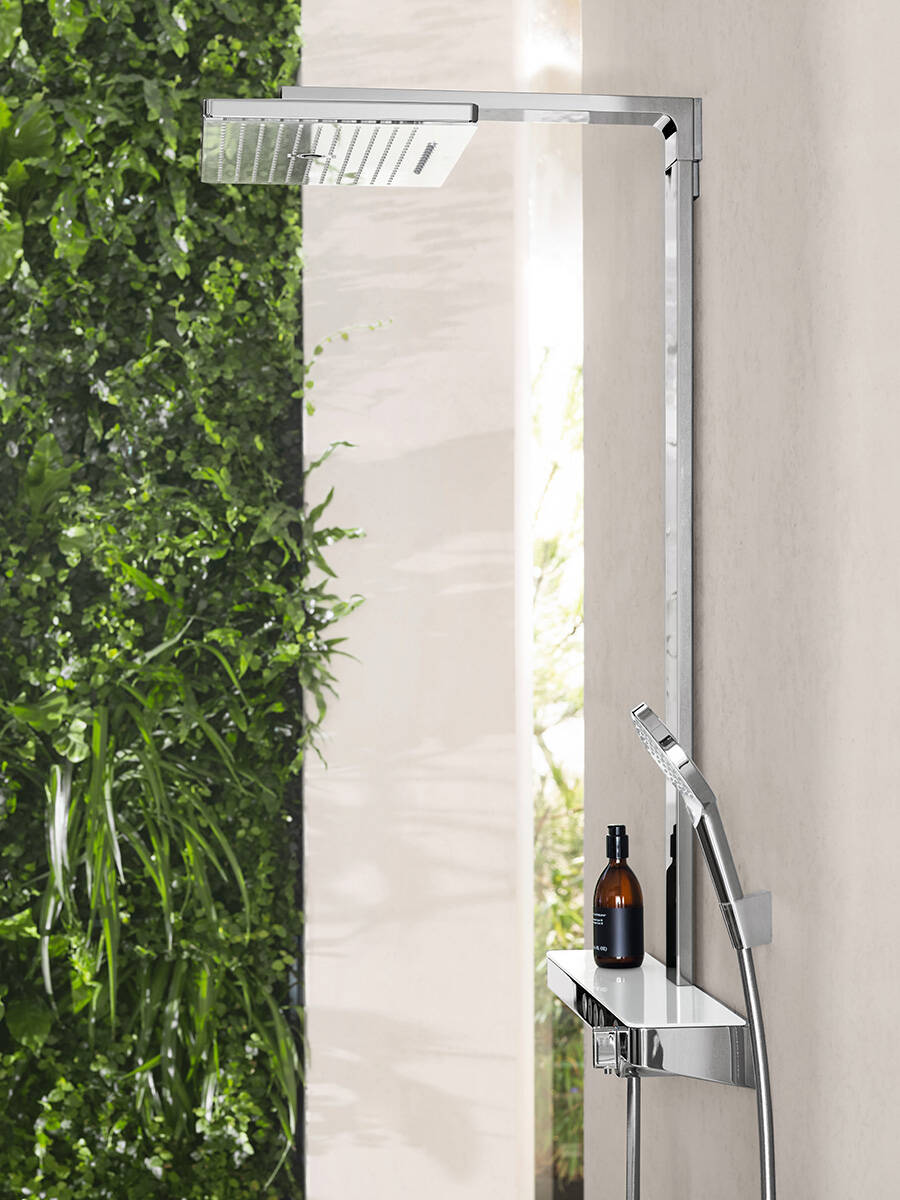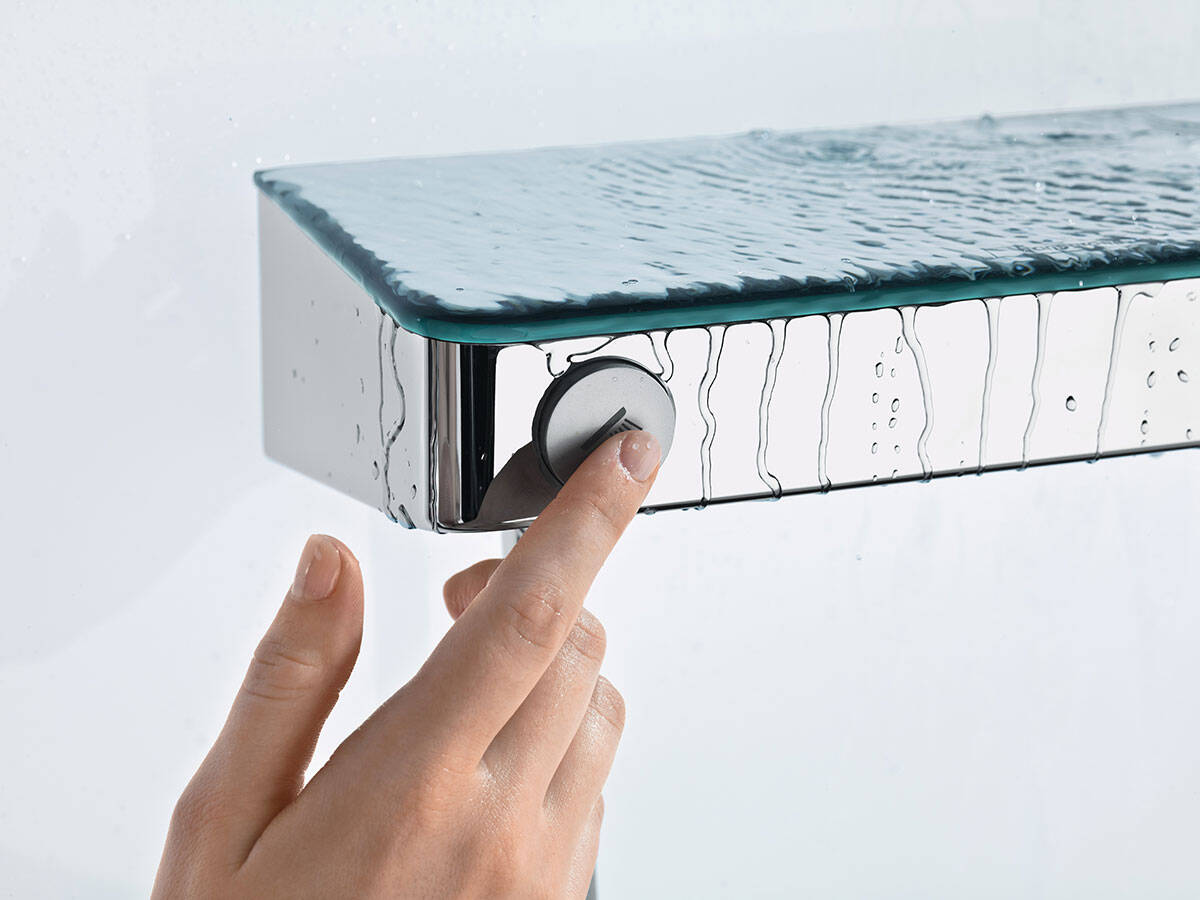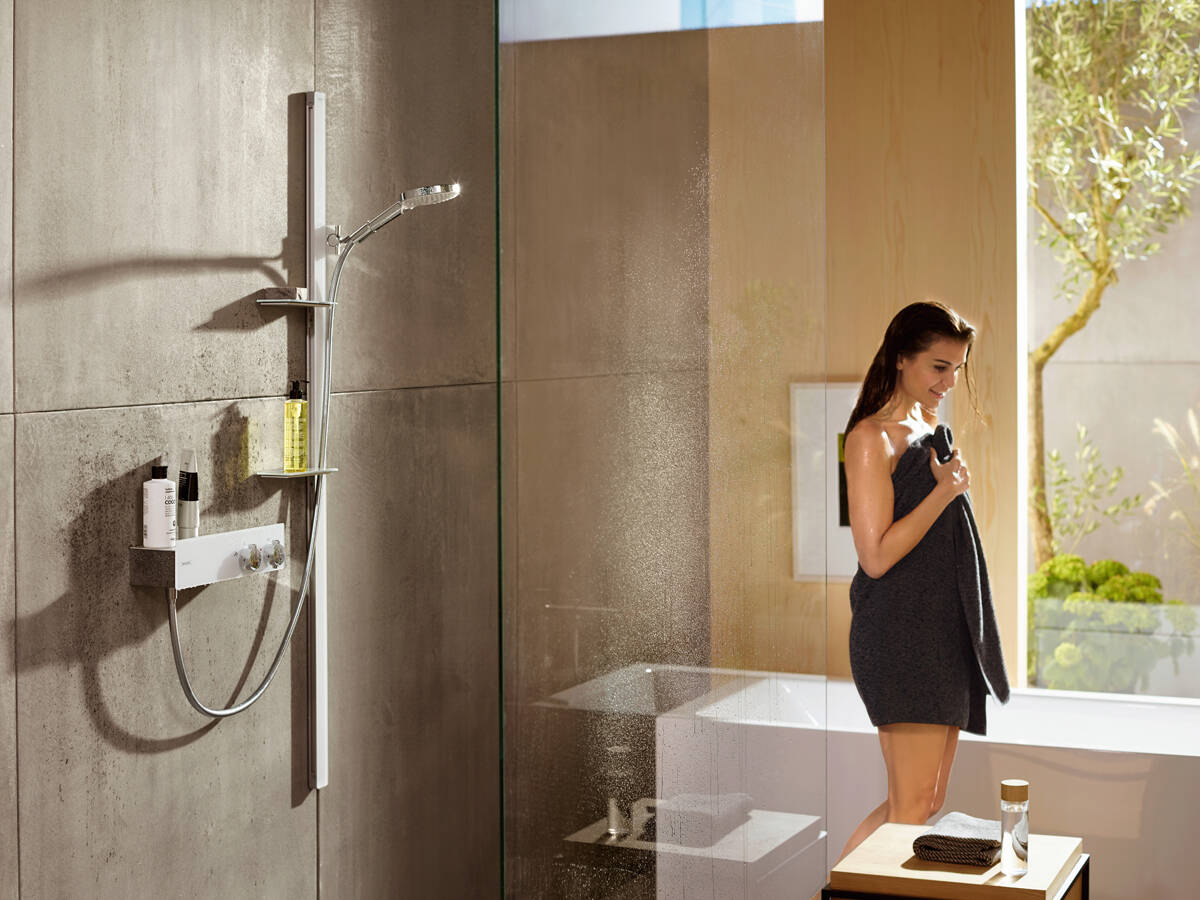 Exposed installation FAQ
Our decades of experience in customer service has shown that consumers primarily have the following questions. Here are the answers: 

Can I install an exposed installation if my pipes are set deep in the wall?
We offer appropriate extensions in any installation length, so you can install your new valve without a problem
What do I do if my pipes run at a slight angle?
With hansgrohe models, minor imperfections can be compensated for by the included connections.
How long does the hansgrohe product guarantee last?
hansgrohe offers you a five-year voluntary manufacturer's guarantee. If your product is older, and at a later stage something develops a fault or becomes leaky, we have spare parts which you can replace easily using standard tools.
 
How it works: installation on existing connections
Trusted partners
Find bathroom showrooms in your area
hansgrohe Loading showroom data
An error occurred. Please reload the page.
Your search covers: United Kingdom and the Republic of Ireland