Decide on a theme, use smart planning
What constitutes a modern bathroom, and how can you design it to suit your requirements?
Could your wet cell do with a facelift? And would you also like to have your own spa area? In this hansgrohe guide focusing on the modern bathroom, we show you how to plan and design your own personalised space. A timelessly beautiful living space, where you can enjoy spending time on a daily basis. Add an element of extra relaxation, luxury, design, enjoyment and comfort to your home.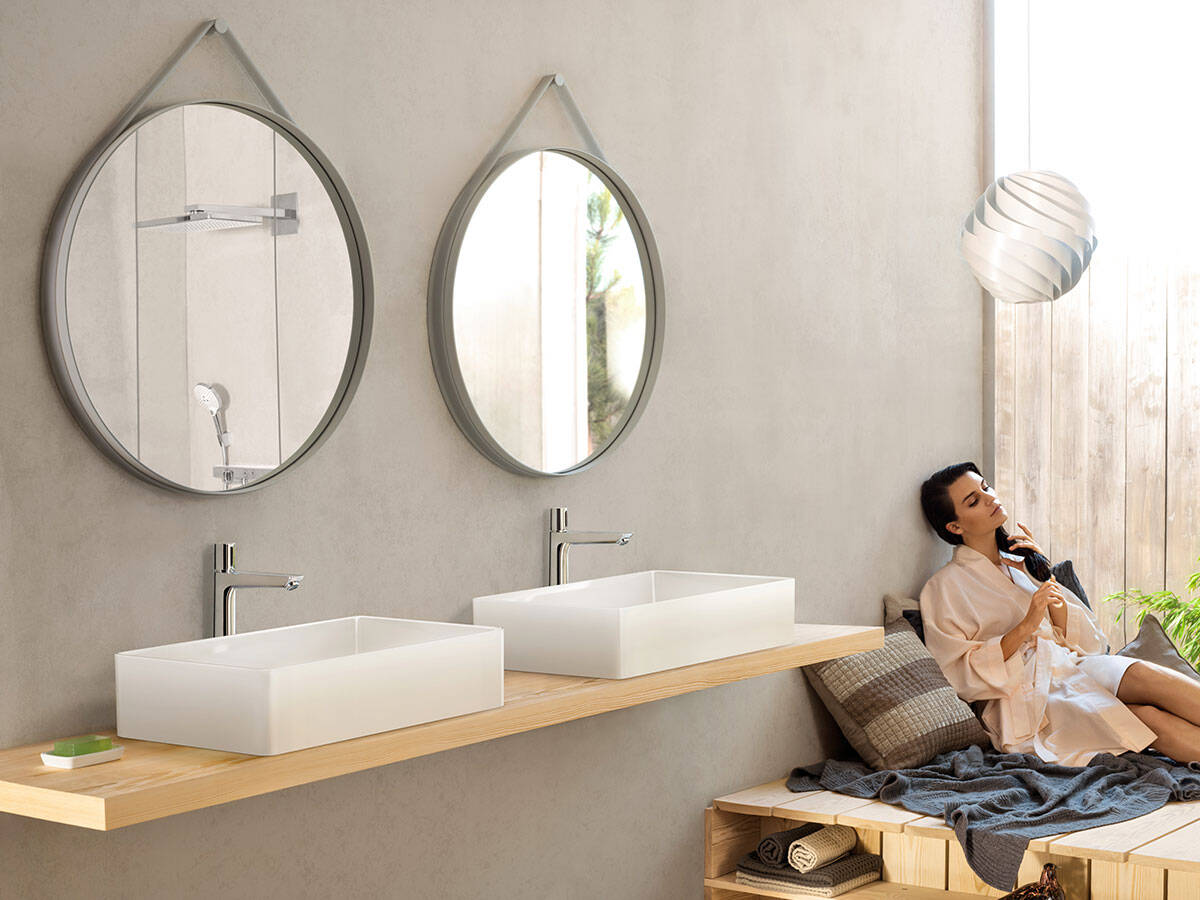 Decide on a theme: add a clear concept to your modern bathroom
How would you like your bathroom to look? Before we offer you some concrete assistance with your bathroom planning, we can show you a few ideas here.
hansgrohe design tip
: give your bathroom a theme. Once you have decided on a concept, you should consistently follow this through. Here are three suggested themes:
"Inspired by nature" theme: the modern bathroom in a natural look
Cold, tiled practicality is a thing of the past. In a nature-inspired bathroom, you can enjoy wonderful relaxation and refreshment. You can also create a cosily furnished bathroom with a personal touch:
Natural surfaces and materials are a must: wooden floors, wooden washstands or wooden platforms. Pebble floors, natural stone tiles or natural stone floors also look good, appeal to all the senses and warm the feet. Also trendy is a wood finish with concrete or marble, or a concrete look with wood effects. Another great combination: old wood with stone.
In terms of colour, beige shades along with grey, granite or anthracite give your bathroom a modern look. On walls and ceilings, the entire range of natural tones really works well. Perhaps you dream of having an open-air bathroom on a terrace or in the garden? In this case the ceiling would be sky blue.
An open-plan room concept creates lots of space for a spa area. Large windows flood bathrooms with natural light and make for sunny times. If this is not possible, you can skilfully illuminate your bathroom: this will create a cosy, feel-good atmosphere. In floor-level shower areas featuring rain showers, you can move around freely and enjoy the feeling of the droplets tumbling onto your skin.
Do you love accessories? Whether you opt for jungle, mountains or desert: photo wallpapers are back in. Also wooden side tables, stools, ladders or deckchairs. Lush green plants as well as rugs and textiles in earthy shades are original eye-catchers.
With so much harmony, you need some contrasts. An attractive mix of materials in the bathroom: wood with chrome. Also beautiful: mineral casting or ceramics in white with chrome and stone with glass.
"Design statements" theme: add accents to a modern bathroom
Skilfully-placed design elements will make your bathroom look classy and high-quality. In a discreet interior, modern taps or shower combinations give the impression of works of art. Or you can treat yourself to real luxury and pull out all the stops when designing the entire room.
Modern design is characterised by minimalist shapes and clean lines. Less is more, objectivity is your trump card. High-quality bathroom design is convenient to operate and highly functional.
Assemble all your things in built-in units, base cabinets, tall cabinets or sideboards with exclusive surface finishes. Plenty of storage space allows your bathroom utensils to disappear, creates a sense of orderliness and offers an unimpeded view of the essentials: your treasure trove of design features.
Exclusive eye-catching features are: free standing bath tubs or wash basins, combined with towering taps (=Highrisers). A shower area with a large, completely invigorating overhead shower. A wash bowl with a sophisticated tap, operated at the touch of a button. An elegant designer radiator for towels ...
If you like patterns and material combinations, you'll love the tiles: colourful mosaics, oriental, geometric or floral decorations. Gold with marble, glass with stone, cool surfaces in black/white or light/dark. High-contrast colours, materials and textures add a touch of glamour to the bathroom.
"Unusual architecture" theme: the modern bathroom that is also a living room
How wonderful would it be if you could have lots of space in your bathroom! In a new build or a total renovation, dream bathrooms that are flooded with light can be achieved using lavish architecture. Trend-setting: when sleeping or living areas merge.
To create the feeling of a spa in your home, you can install spacious solutions which expand your radius of movement. For example, a free-standing bath tub in the centre of the room or on a platform. Double wash basins with designer taps or taps that tower up from the floor. A bidet. A floor-level shower paradise with multiple showers. Also luxurious: king-size shower systems with convenient shelves.
Who says that a bathroom must only be used for personal hygiene? Use couches, leather armchairs or lounge furniture to design relaxation areas and turn your bathroom into a second living room. Thanks to avantgarde designer lamps, sophisticated LED lighting or plenty of natural light, you will never again want to leave your dream bathroom.
Opulent or cool? Parallel or asymmetrical? Give expression to excellent taste and creativity: with structure-creating tiled walls, contrasting colour surfaces, purist accessories or a mirror cabinet. Windows offer pleasant views into the garden. Why not try out a landscape painting or a sculpture?
Do you need more inspiration? We have tracked down the
latest bathroom trends
 for you.
Use smart planning: design your own modern bathroom
Does your bathroom have a theme? Great. In that case, here are some frequently asked questions which lots of builders or renovators have.
Do you have a small bathroom? It doesn't matter. Use mirrors to simulate size. Conjure up lots of light with a sophisticated illumination concept (LED strips, mirror lights, halogen spotlights). Even in windowless bathrooms. To make optimum use of every square centimetre, you can install an angular bath tub under a slanted ceiling, for example. Use concealed installations so that the taps don't appear bulky. Flat shower and bath tub control systems are embedded in the wall. This looks classy and provides room to move around even in small spaces. Or you could do without the bath tub altogether, and instead build yourself a modern shower area featuring a lavish rain shower. Put your towels on wooden ladders or heated towel rails. Placing a wash bowl on a floor unit offers you extra storage place underneath. Here too, the tap can be concealed in minimalist design. Tall cabinets and built-in units allow bathroom utensils to disappear and clear away the clutter in a small bathroom. You can also visually enlarge the bathroom using a light colour for the walls and floor.
Shower on weekdays, bath on Saturdays? Do you need a shower AND a bath tub? Understandable. Both have their merits. But what bath tubs and showers look impressive in a modern bathroom? The free standing bath tub is the epitome of luxury and upscale bathroom culture. The playful lion foot variant, an angular, boat-shaped or oval shape: they all look grandiose in a large modern bathroom. A stylish addition: a bath mixer that towers up from the floor. The corner bath tub is a space-saving solution for smaller bathrooms. Nevertheless, please make sure that it fits your body size and offers space for more than just a sitz bath. The practical shower cabin never goes out of fashion, but tends to get bigger, more comfortable and more luxurious. Whether it is placed in the centre of a room, on the wall, in an alcove in the wall, in front of the window or in the corner depends on your taste and on the bathroom architecture. Very much the current trend: transparent showers with glass/Plexiglas all around. This can be curved, angular or spiral. With or without chrome fittings: glass provides a clear view of a modern shower system, for example with overhead/side showers or minimalist, flat concealed mixers. Do you dream of having a walk-in shower? There are models which can be entered from multiple sides. Sometimes a discreet glass partition provides splash protection; purists can even make do without the glass. Avantgarde variant: the shower that you can walk straight into from your bed. In the open-plan shower paradise, you can add exciting highlights with modern tiles. As it happens, walk-in showers are not only an asset in terms of aesthetics. Since they have no tripping hazards, they are an ideal basis for creating a future-proof, cross-generation bathroom and for environments that are suitable for the elderly.
Found some great tiles but don't know how or where to install them? Whether they are discreet and natural, oriental and playful or youthful and fresh: bathroom tiles offer infinite possibilities for décor and design. They are eye-catching features in the bathroom, and hopefully you will want to feast your eyes on them for a long time to come. In purely practical terms, they are an important spray and mould protection for walls and floors. With intricate ceramic and/or glass mosaic tiles, you can add beautiful accents to the shower, wash basin, bath tub or in an alcove. Increasingly, classic tiles are giving way to tiles in a wooden floorboard look and marble floors. You can line your walls and floors all over with large natural stone tiles, for example: slate, granite or sandstone. With their natural grains and structures, they add a sense of pristine cosiness to the bathroom. Whether you opt for porcelain stoneware or tiles in a wood finish, half-height tiling or tiling right up to the ceiling: anything goes. Whatever is easy to clean too. Of course, you don't have to use tiles: "bare" walls are often found in modern bathrooms. If you like the cool, purist look, you can opt for a trendy concrete look in grey or natural shades.
HGHBWMediaGalleryImageElementComponentModel (8811308352572@3)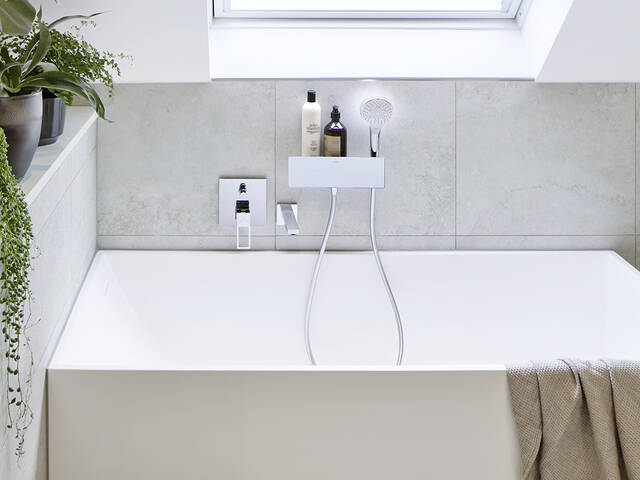 HGHBWMediaGalleryImageElementComponentModel (8811308319804@3)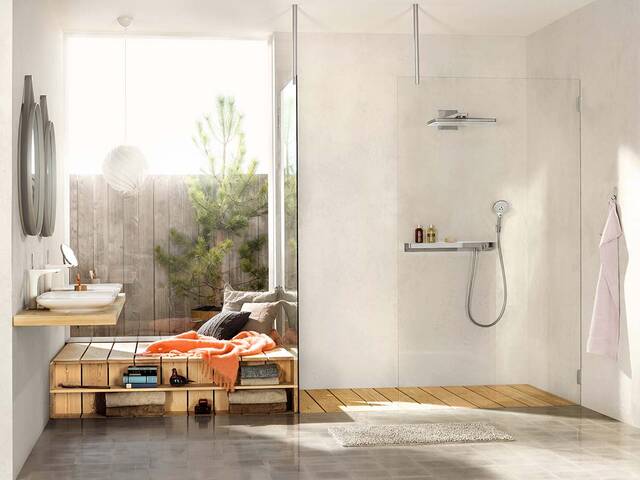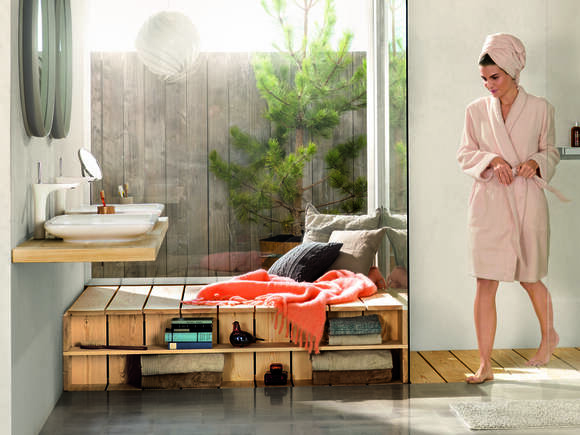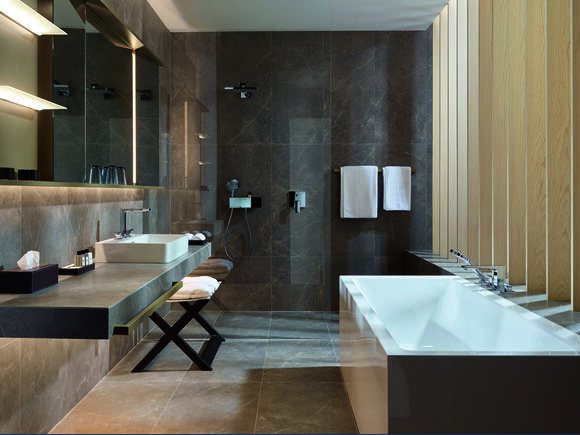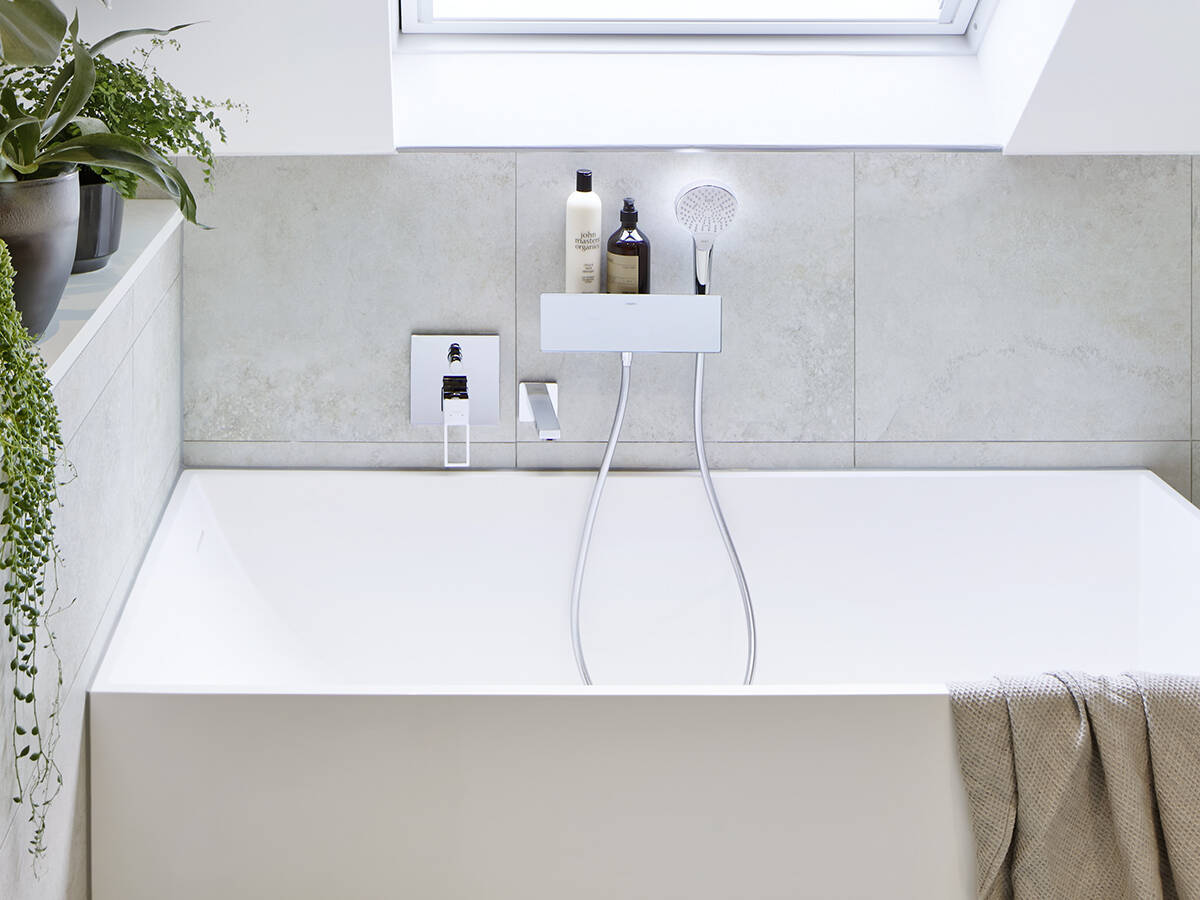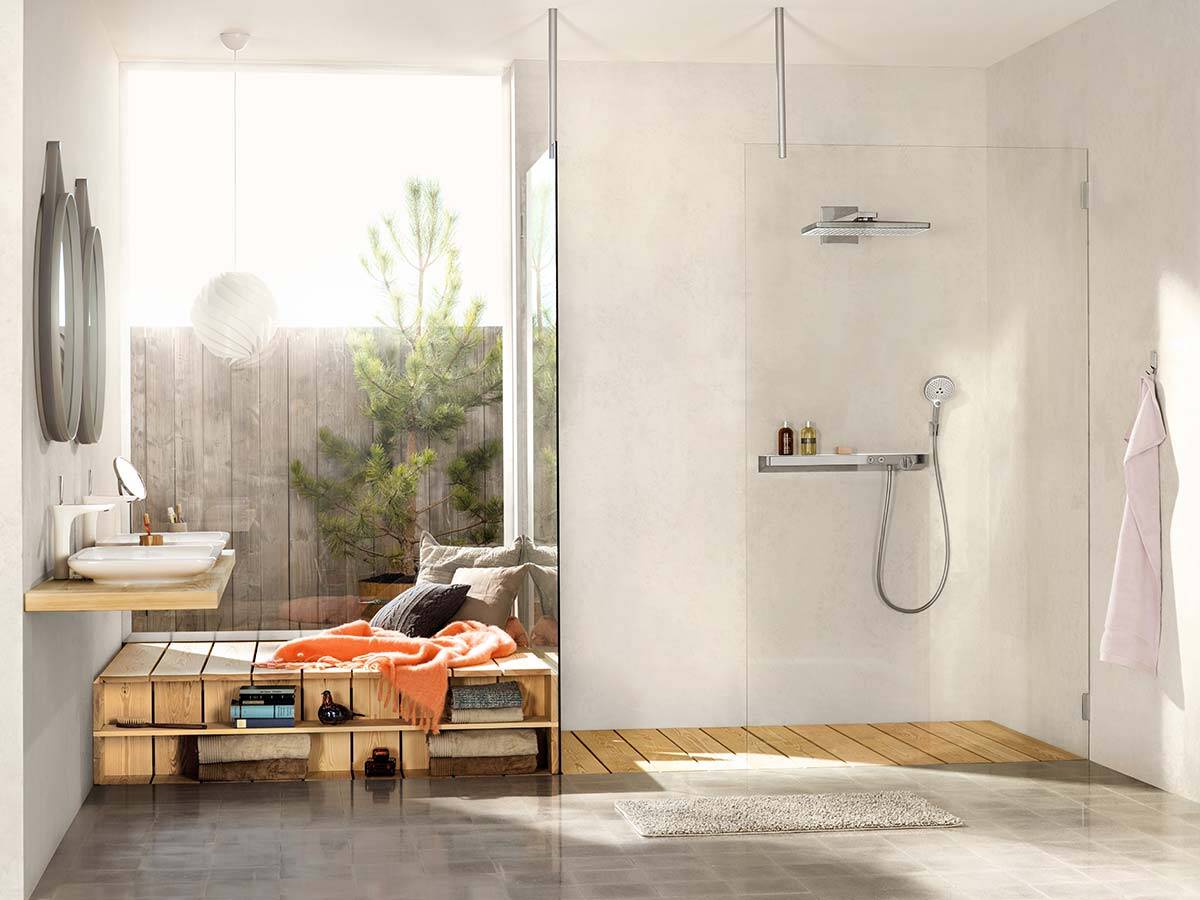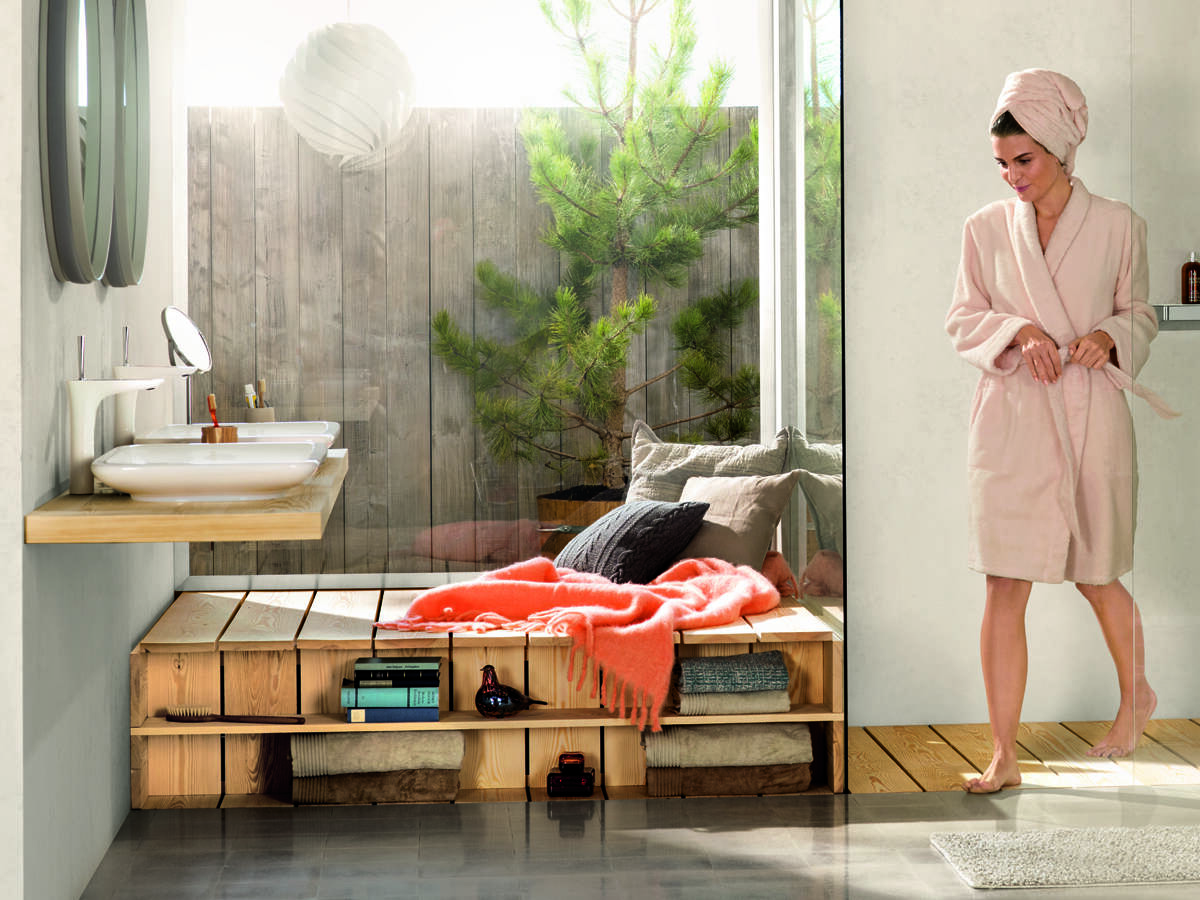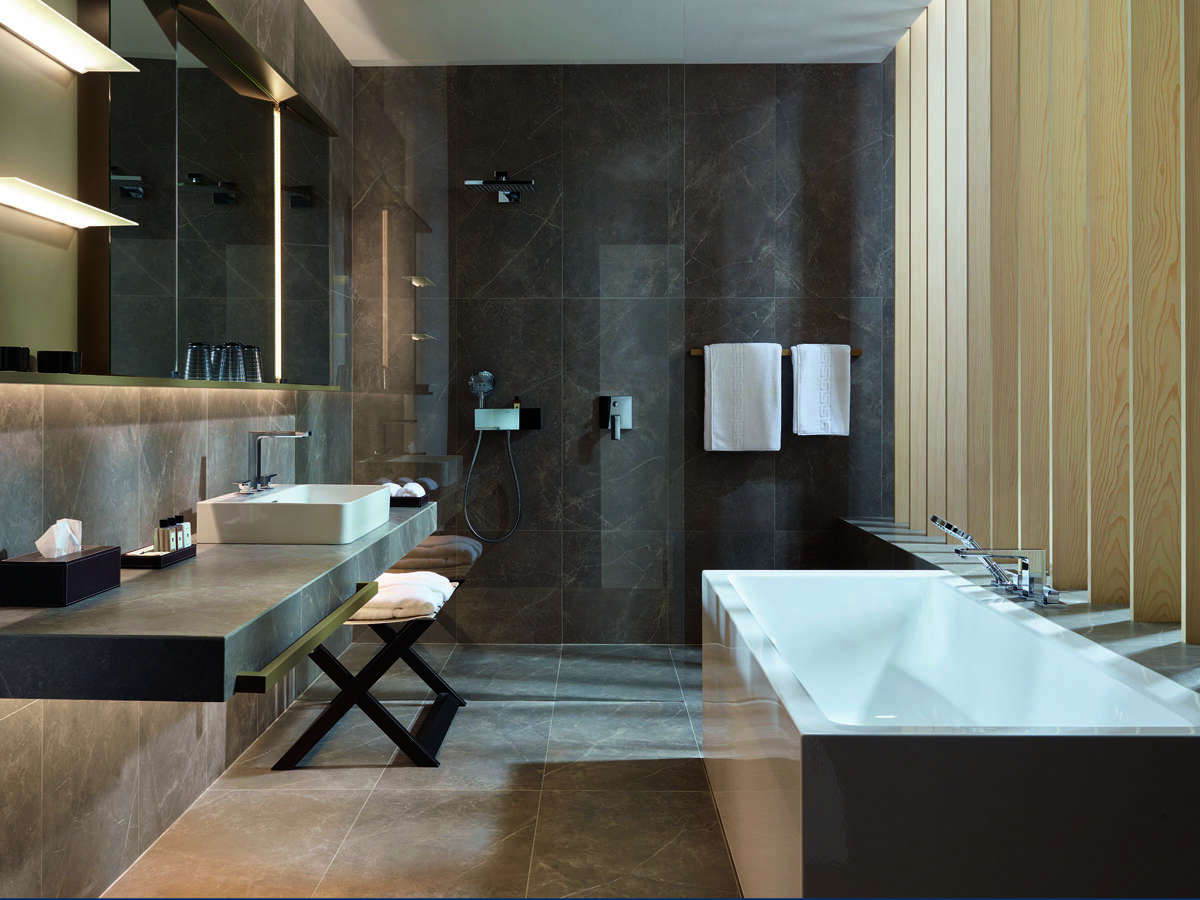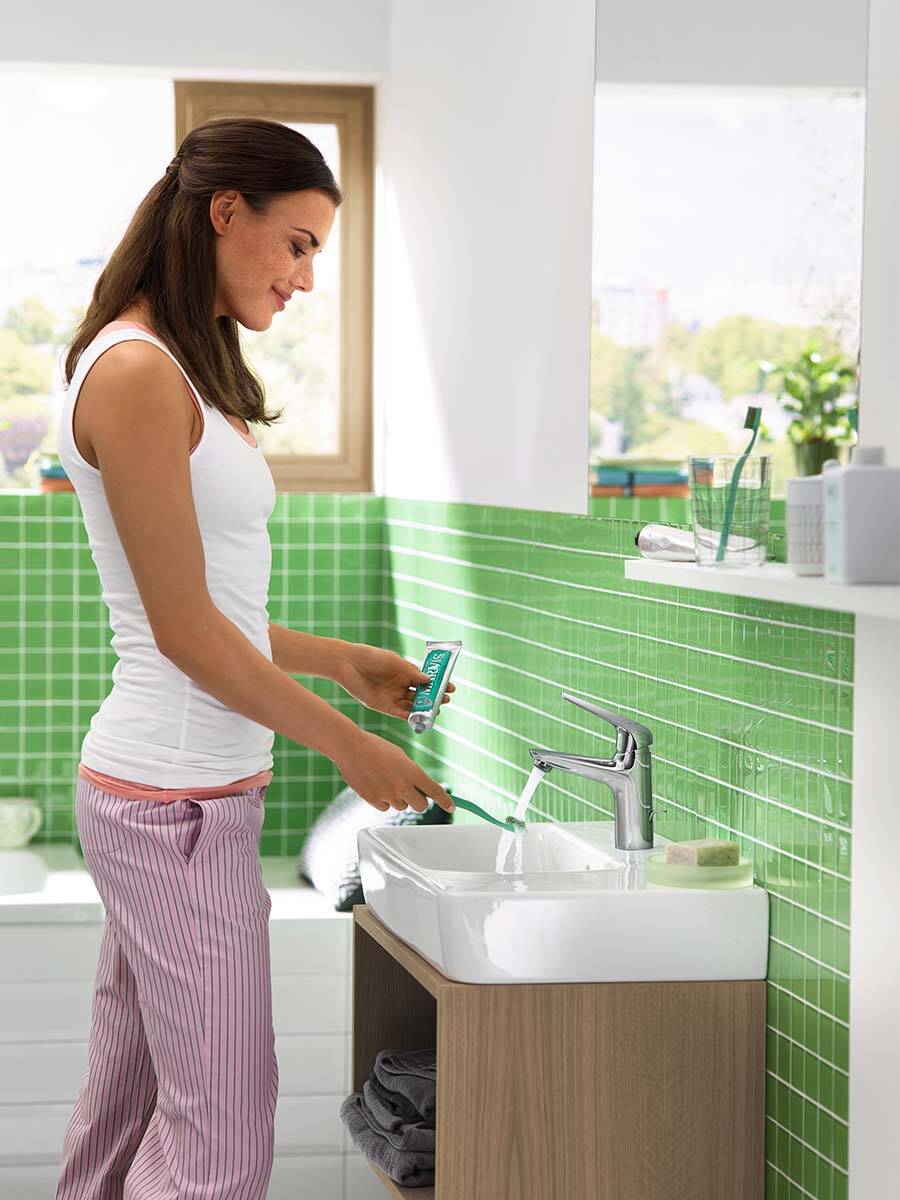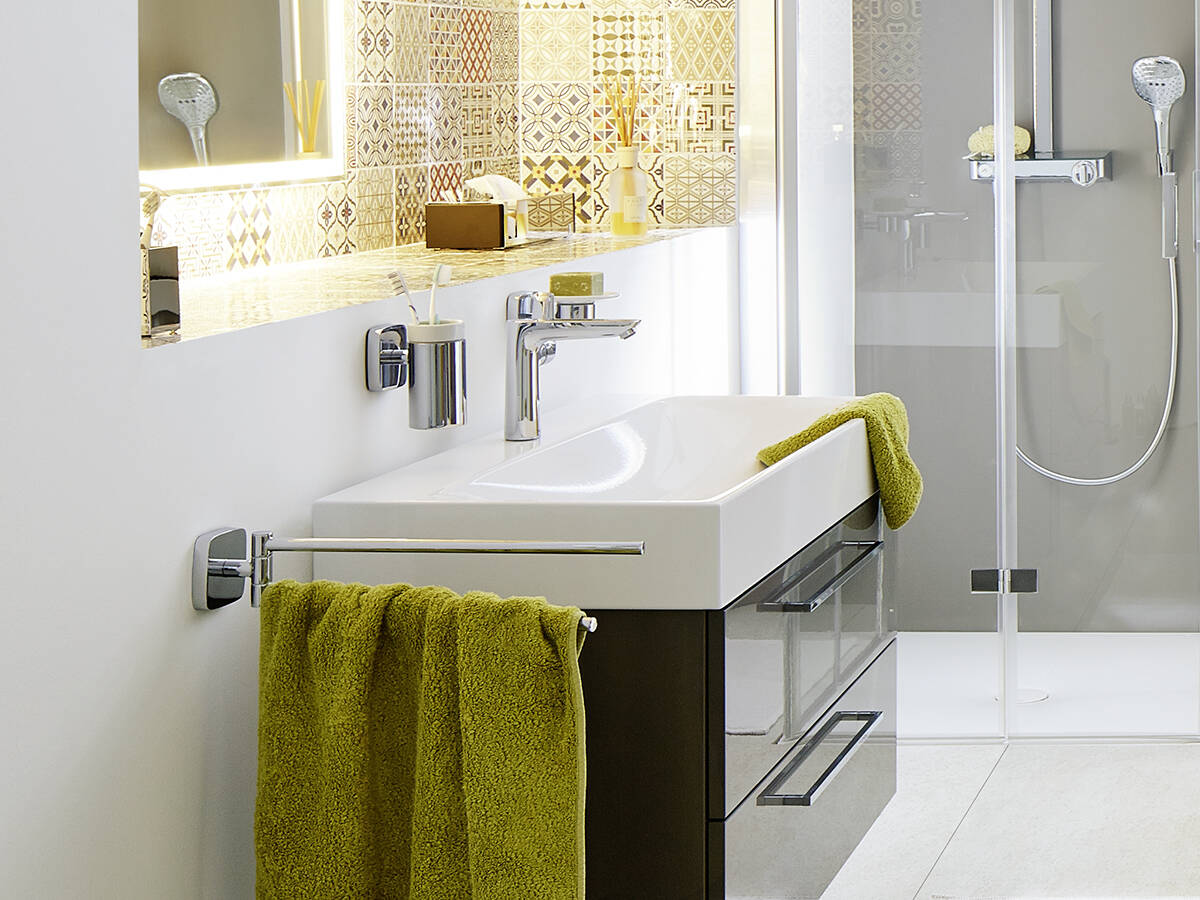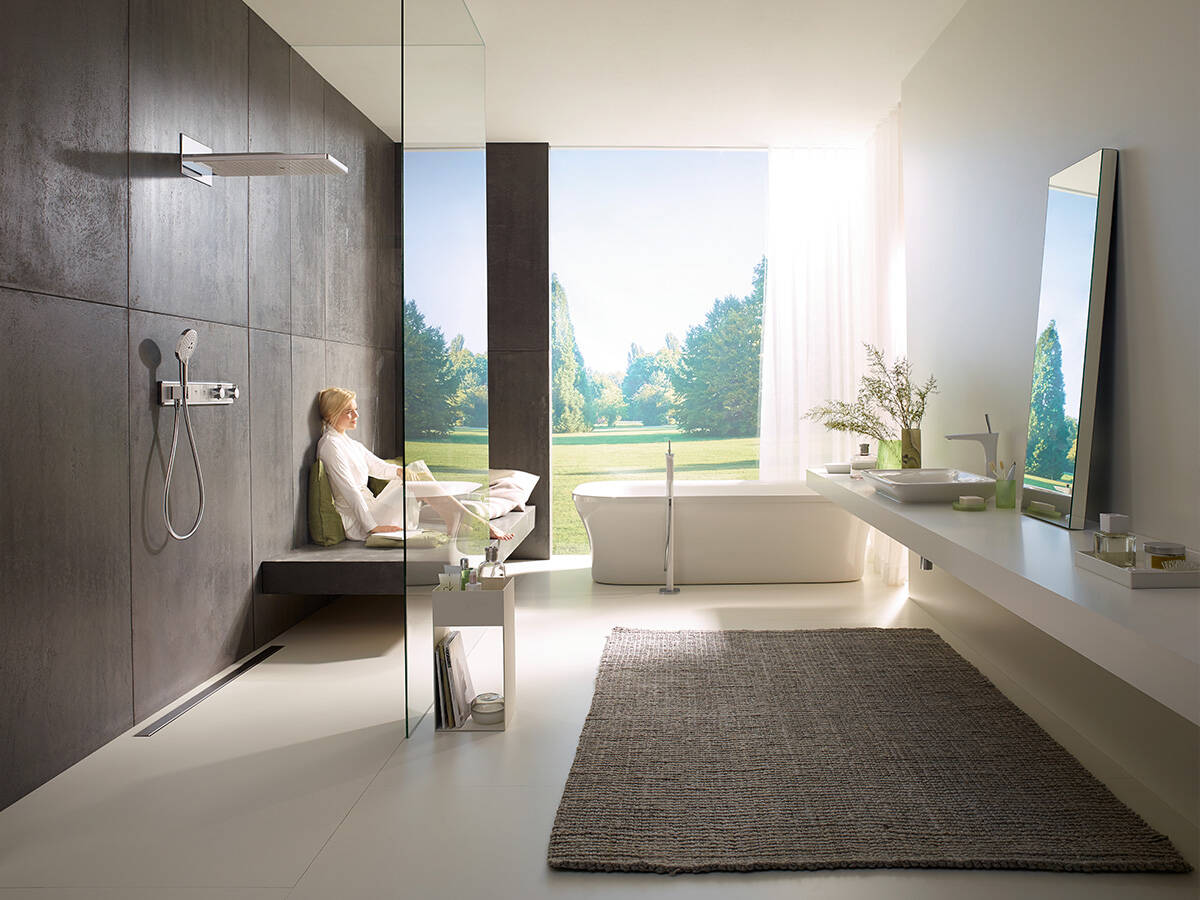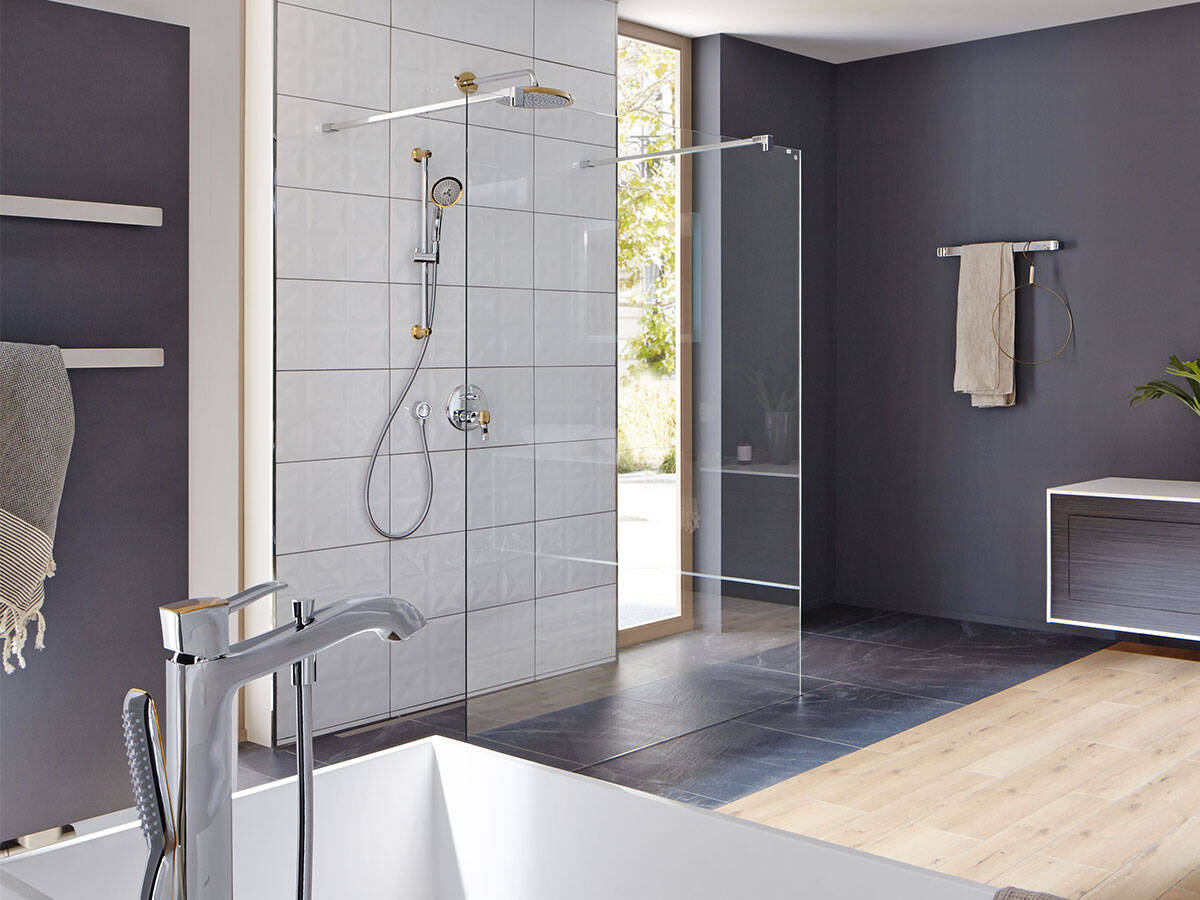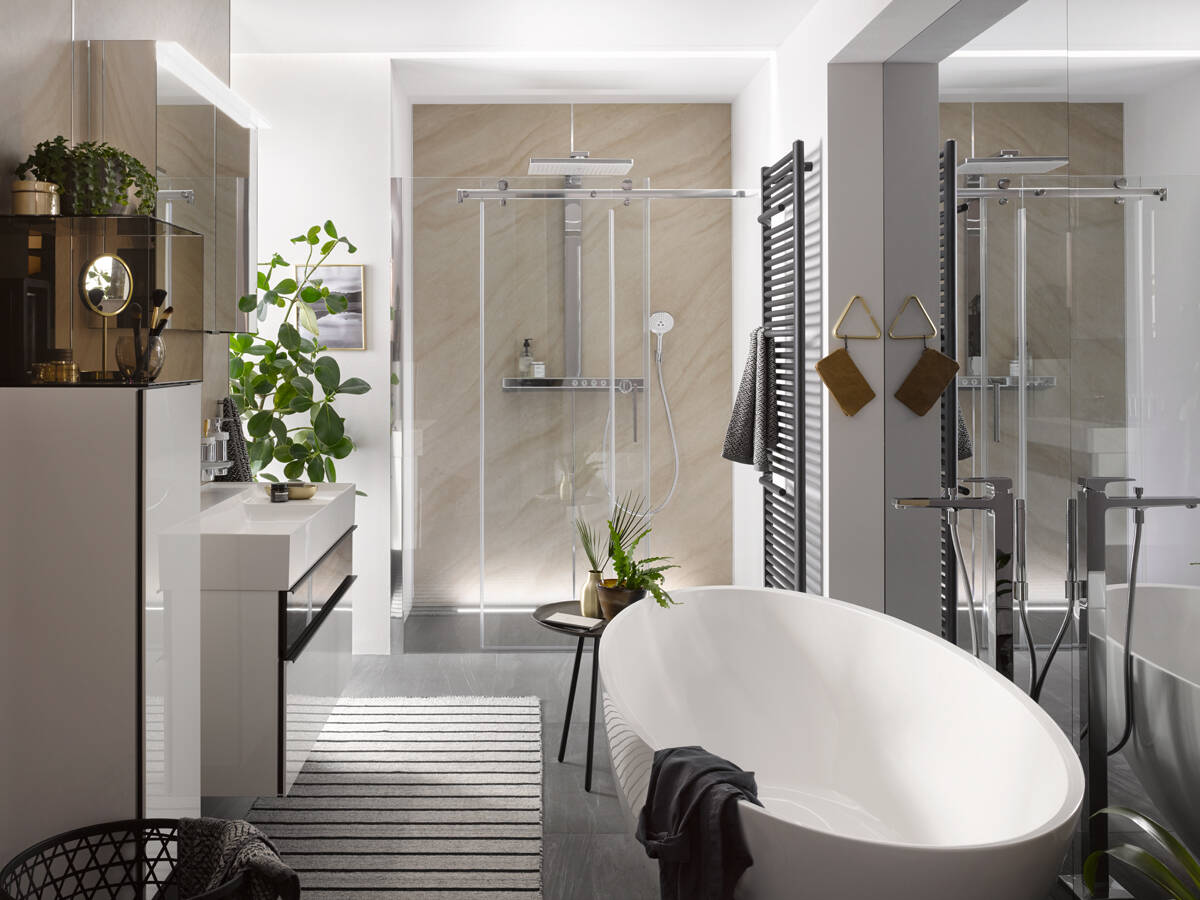 Bathroom planning with hansgrohe: more guidance articles for designing modern bathrooms
Trusted partners
Find bathroom showrooms in your area
hansgrohe Loading showroom data
An error occurred. Please reload the page.
Your search covers: United Kingdom and the Republic of Ireland